Have you recently decided to get professional basement waterproofing done on your home? That's good news. With the help of a trusted waterproofing company, you'll be able to keep basement leaks out and prevent water damage for years and years to come.
Here are four easy steps you can take to get your home ready for waterproofing as well as what to expect while the waterproofing pros work on your property.
Let's get started!
Step #1: Get Your Basement Assessed
Thorough waterproofing companies start with an extensive assessment of your property before recommending a solution.
As an example, our professionals at PRO Waterproofers don't just look at the basement walls and their cracks. We also assess the topography of the land, look for clues of a high water table, inspect how the sump pump disposes of excess water, among other necessary steps.
This is the first thing that a property owner should expect. The advantage to having this added step is to fully expose the problem. This way, a fitting solution or set of solutions can be presented in order to ensure that the basement is dry and the foundation stays intact for a long time.
Step #2: Familiarize Yourself With the Types of Professional Waterproofing
After the initial assessment, you will find out the main modality of professional waterproofing that is best for your property. For existing homes, this could be interior or exterior basement waterproofing. And for under-construction homes that have an ICF foundation, ICF waterproofing is usually recommended.
As for commercial properties that are still under construction, blindside waterproofing is usually recommended unless the commercial property has ICF foundations. Though all of the above are templates of waterproofing solutions, they can still be refined and tweaked according to what your property needs.
Step #3: Communicate Any Future Renovation Plans
If you plan to make renovations to your basement after it has been waterproofed, it would be best to voice them out before waterproofing takes place. Here are some questions you can ask yourself:
Will you update the basement into a living space?

Are you going to have an egress window with a window well?

Would you need to adjust the height of your basement later on?
These and other similar modifications are best shared with your waterproofers so that they can, if needed, adjust to these future plans.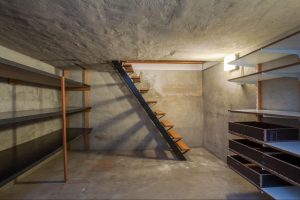 Step #4: Preparing For Professional Waterproofing
Preparing For Interior Basement Waterproofing
In our article, "How Does Interior Waterproofing Work?", we discussed how all the components of an interior waterproofing system are installed from the inside. The main components installed internally include the weeping tile network, the sump pump, the waterproofing membrane, and so on.
In order to help the waterproofing project proceed faster, you can take the following preparatory steps:
1. Relocate valuables, fragile items, and other obstructive possessions. This way, the professional waterproofers have easy access to the leaky walls and to the floor where the weeping tiles and sump pump will be installed.
You will also have peace of mind knowing that valuables and fragile items are away from the commotion. If you can't move these items yourself, notify your waterproofers in advance so that you could come up with a plan that works.
2. Replace the worn-out bulbs for adequate lighting. Some waterproofers are equipped with their own lights, but starting with a pitch-black basement will definitely delay the process. Bulb replacement can go a long way.
3. Sweep away large debris. Waterproofers are also equipped with needed cleaning materials but one quick sweep of large debris will help the project progress on a faster note.
4. Plan ahead. On the day of waterproofing, professional waterproofers will need access to the basement. Whether you will be there yourself to let them in or have the key inside a key box, the choice is up to you.
Preparing For Exterior Basement Waterproofing
Though exterior waterproofing is mainly done from the outside of the basement, access to the inside of the basement may also be needed in some cases. Exterior waterproofing's main components include the waterproofing membrane, the weeping tile network, and in some cases, the sump pump system.
Though these components are similar to that of interior waterproofing, they differ in how they're installed. In exterior waterproofing, the waterproofing membrane is outside. However, the weeping tile network may span internally if there will be a sump pump installed as well.
Here are steps you can take to prepare for exterior waterproofing:
1. Prepare the basement. Follow along the preparatory steps laid out for interior waterproofing. This is especially important if a sump pump with an internal weeping tile network will be installed. In most cases, specific sections are needed to be clear. Talk to your waterproofer to plan what needs to be done.
2. Move prized plants near the basement. If you have plants or small trees near the basement's periphery, consider relocating them or putting them in temporary pots. But for small trees, you may want to keep them far away from the basement even after waterproofing is done. Tree roots can grow into weeping tile networks over time and cause obstructions.
3. Plan ahead. Similar to preparing for interior waterproofing, plan how the waterproofers will have access to the basement if needed.
Preparing For ICF Waterproofing or Blindside Waterproofing
The last kinds of waterproofing we will touch on are ICF waterproofing and blindside waterproofing.
ICF Waterproofing is commonly used for residential or commercial properties that have ICF foundations and are still under construction. As for blindside waterproofing, this is typically done on commercial properties that are still in the early stages of construction.
If you have opted for these kinds of waterproofing, we have one important tip on how to prepare, and that is to align with your contractor.
Both ICF and blindside waterproofing are "phase-sensitive," meaning that waterproofing needs to be installed at a certain phase during construction. For this reason, it is important that your contractor is in the know, preferably directly communicating with your waterproofer.
Professional Waterproofing That You Can Count On
PRO Waterproofers is one of the most trusted waterproofing companies that services Hamilton, Burlington, Oakville, and nearby areas. We uphold the highest standards in everything we do, from our customer service to the basement waterproofing systems that we set up.
With our expert assessment, up-to-date professional waterproofing methods, and top-notch materials, you are sure to enjoy a moisture-free basement for decades to come.
If you would like to learn more about what we can do for you or get a FREE in-home assessment, contact us today to get started!